Project Title: Massey Hall – Masonry and Window Restoration
Project Location: University of Guelph – Massey Hall
Owner: The University of Guelph
Project Start: Spring 2017
Project Completion: Winter 2017
Consultant: WSP Canada Inc.
Massey Hall was constructed as a library for the Ontario Agricultural College in 1903. It is constructed with clay brick and features copper flashings, terra cotta caps and cornices and many profiles of different handmade bricks. KIB was retained to complete the final phase of window and masonry restoration. The work involved brick replacement, terra cotta replacement, masonry re-pointing, foundation stone replacement and wood window and glass restoration.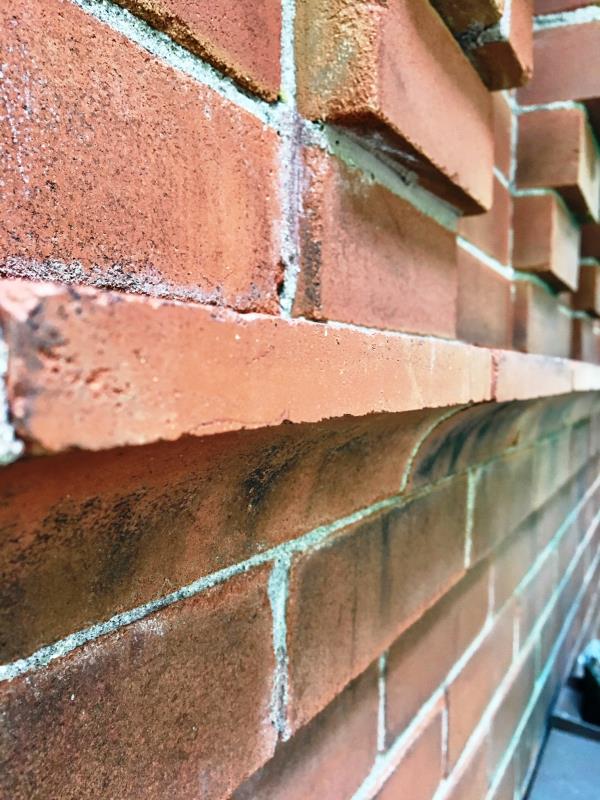 Project Title: Guelph General Hospital – Façade Restoration
Project Location: 115 Delhi Street, Guelph
Owner: Guelph General Hospital
Project Start: Fall 2016
Project Completion: Spring 2017
Consultant: IRC Building Sciences Group
KIB was awarded this demanding restoration project in the Fall of 2016. The work entailed full sealant replacement, various masonry repairs, curtain wall rehabilitation, duct work waterproofing, structural concrete repairs, guard replacement and structure waterproofing all to be completed during the winter months in order to meet the fiscal deadline of the project. KIB properly allocated resources and equipment to properly heat and protect the work. The project was completed on time and under the original budget.
During the project KIB kept the hospital fully operational by providing various overhead protection and pedestrian walk ways, implementing and managing infection control procedures and by working flexible hours through discussion with hospital staff to ensure the hospital operations were not affected by the work.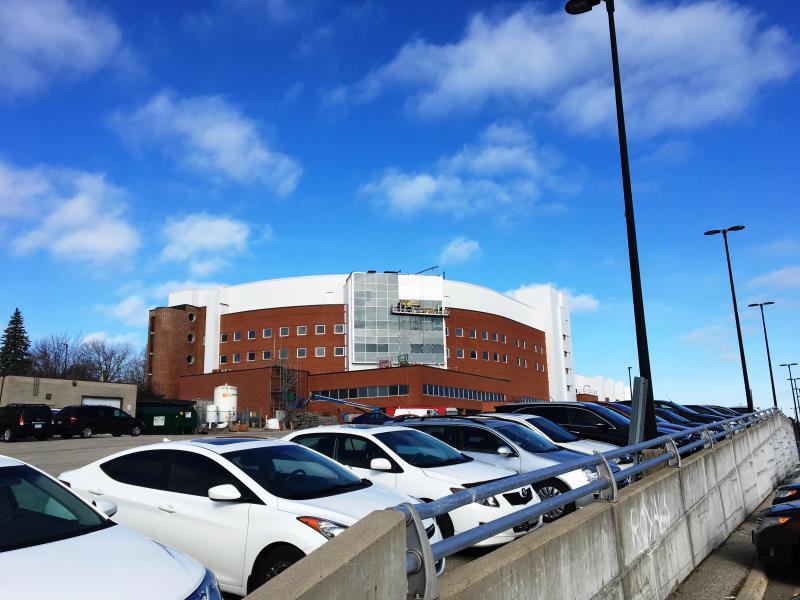 Grimsby Water Treatment Plant – Masonry Restoration
Project Location: 300 North Service Road, Grimsby Ontario
Owner: The Regional Municipality of Niagara
Project Start: Spring 2013
Project Completion: Fall 2013
Consultant: Parsons Brinkerhoff Halsall Inc.
This landmark building as you enter the Niagara Region from the GTA required significant masonry restoration to renew the building appearance. K.I.B. competitively tendered and was awarded this project. Work included removal and replacement of 137,000 bricks, removal, cleaning and resetting of concrete coping stones, and 100% sealant replacement. Significant repairs to the backup structure included air barrier repairs, new stainless steel ties, and new through wall flashings. K.I.B. significantly improved building performance by installing stainless steel drip deflectors at strategic locations to properly shed water and protect the masonry.
K.I.B. allocated significant resources and work force in order to meet the tight deadlines laid out by the Owner.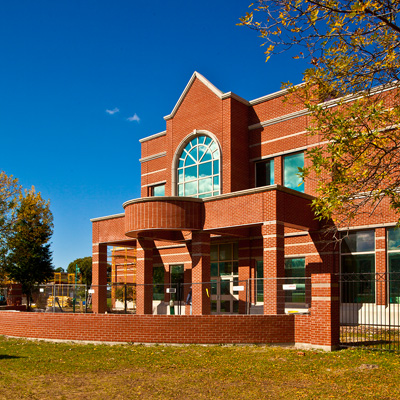 Commerce Court – Masonry Rehabilitation
Project Location: 25 King Street West, Toronto
Owner: bcIMC Realty Partnership c/o GWL Realty Advisors
Consultant: Parsons Brinkerhoff Halsall Inc.
Commerce Court in Toronto is a financial and architectural hub of the downtown core. The 34 storey tower was constructed in 1931. K.I.B. has completed several restoration projects spanning from 2013 to 2015 to the exterior masonry, stones, and stone sculptures. Work included stone/Dutchman repairs, stone replacement, and masonry re-pointing. K.I.B. completed significant repairs to the iconic stone head statues including removal of each stone, upgrading internal weather shedding/stone protection, detailing, upgrading stone anchors and some stone repair. The heads were rebuilt to match their original historic appearance.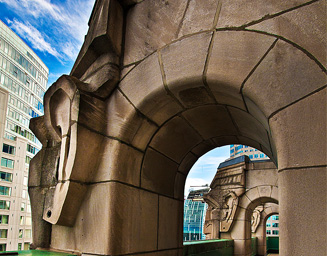 Government of Canada Building, 44 Hurontario Street – Marble Stone Repairs
Project Location: 44 Hurontario Street Collingwood, Ontario
Owner: Public Works and Government Services Canada c/o SNC Lavalin O & M
Project Start: Fall 2009
Project Completion: Spring 2010
Consultant: Reed Jones Christoffersen Ltd.
K.I.B. Building Restoration Inc. was retained to complete significant marble, roof and structural steel repairs to this landmark historical building in Collingwood Ontario. Each stone was meticulously removed, labeled and stored to facilitate repair to the backup structural steel. Once complete stones were repaired or replaced and reinstated in their original location.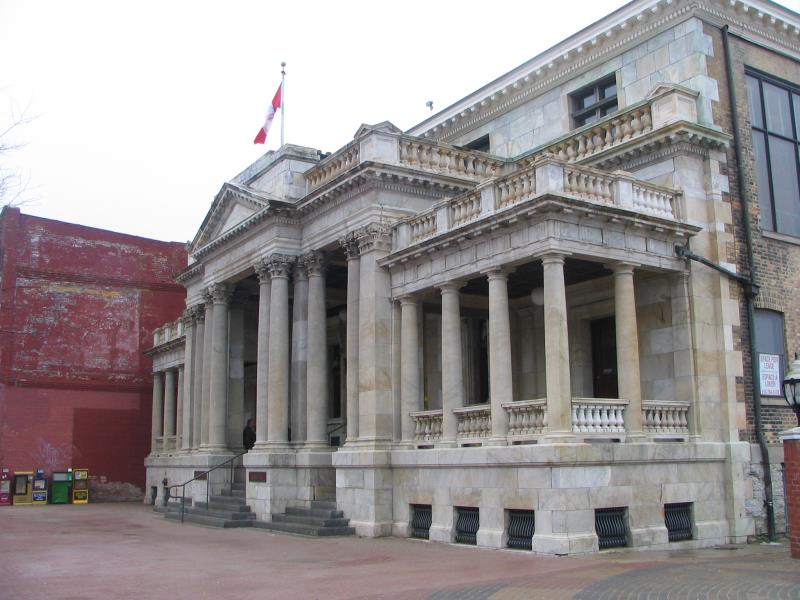 Black Willow - Podium Structural Repairs
Project Location: 58 Bridgeport Road East, Waterloo
Owner: Waterloo North Condominium Corporation No. 12
Project Start: Summer 2015
Project Completion: Fall 2015
Consultant: MTE Consultants Ltd.
K.I.B. Building Restoration Inc. carried out emergency shoring installation after review of the structure was completed by the consultant. After the shoring, K.I.B. assisted the consultant with investigative openings to review the structure below grade. 21 columns were found to have various levels of deterioration, all of which required repair. After successfully tendering the work with the owner, K.I.B. completed a column and footing replacement program in order to renew the buildings structural integrity.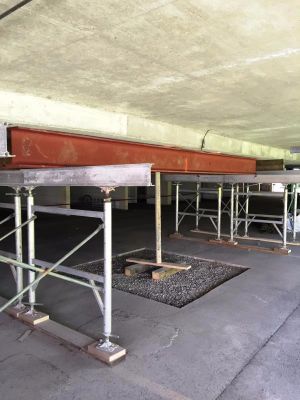 Project Title: Primrose Hotel – Exterior Wall Rehabilitation
Project Location: 111 Carlton Drive, Toronto
Owner: Knightstone Capital Management
Project Start: Summer 2015
Project Completion: Fall 2015
Consultant: RJC Ltd.
K.I.B. Building Restoration Inc. carried out significant concrete deterioration repairs and building envelope coatings at this landmark building downtown Toronto. The work included more than 4,500ft² of concrete vertical surface repair on a fluted concrete wall. Various methods to access the walls included swing stage and mast climber to facilitate the work. Pedestrian and vehicle access was maintained throughout the work by setting up and maintaining overhead walkthrough scaffold to meet the City of Toronto standards, and power line protection while working near live wires.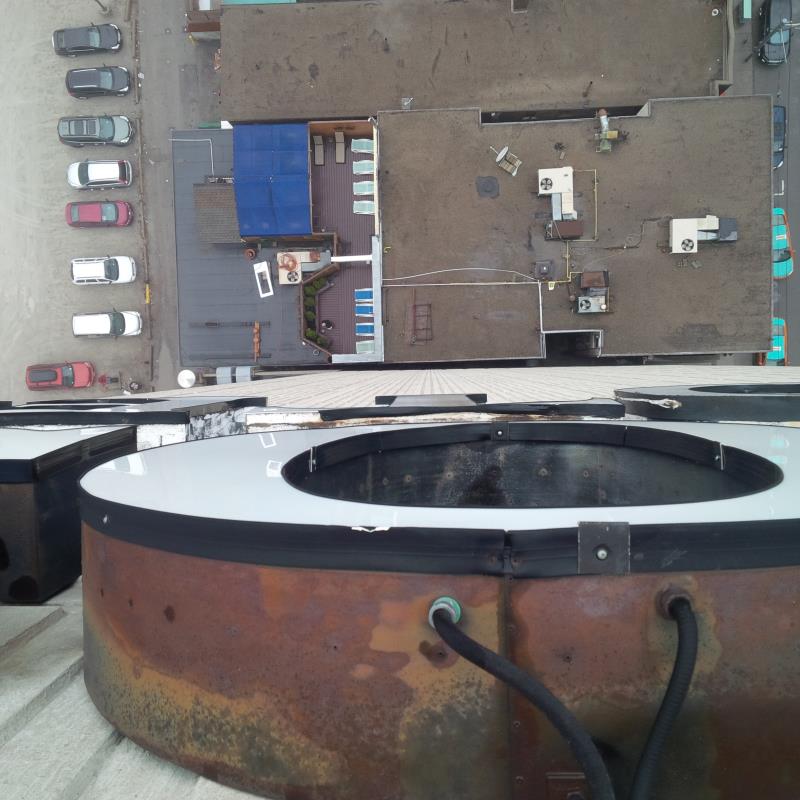 Project Title: College Park - Exterior Cladding Repairs
Project Location: 444 Yonge Street, Toronto
Owner: GWL Realty Advisors
Project Start: Fall 2017
Project Completion: Fall 2017
Consultant: WSP Canada Inc.
This building constructed in ~1928 features Tyndall Stone blocks, copper flashings and bronze medallions. K.I.B. worked closely with the consultant to restore the south and half of the east elevation. The work involved repointing, sealant replacement and Jahn Mortar Repairs which required a hand textured finish to match the original tooled appearance of the parent stone. K.I.B. also completed several Dutchman repairs from new Tyndall stone including new pin anchors and tooled stone finish to closely match the original appearance.
The work was completed on time and under budget all while keeping safe public access to the building and the busy sidewalk on Yonge Street.